Image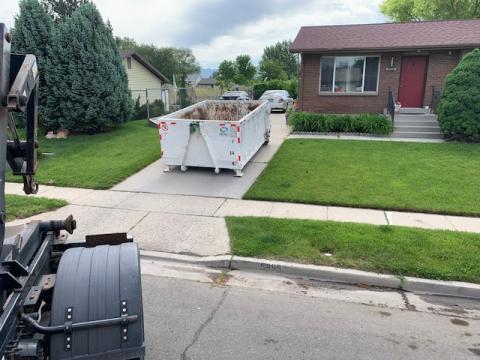 Click here to find out when your area is serviced
Click here to reserve a container during your area's time
(found on your postcard)
Click here to be added to our cancelation list  
IMPORTANT NOTE: There is no guarantee of a booking from our cancelation list. The slots given from this list are also on a first-come, first-served basis, based on availability. We will contact you via email with an available date if one becomes available.
How It Works 
Residents in our servicing district will receive a postcard three to four weeks before their area's scheduled time.
The postcard details when they can log on to our website to reserve a container.
A release of liability is required to reserve a container. When the container is reserved, it will be delivered to their home on the scheduled date. 
If it's your area's time to reserve, click here to reserve -> BOOKING CALENDAR
When are the containers delivered?
Containers are dropped off between 7:00 a.m. and 5:00 p.m on the scheduled day (we cannot give a closer estimated arrival time). Our staff will try to ensure that residents have up to 24 hours to use the container.
For successful participation, driveways must be clear, accessible, and have enough space (approximately 10' x 20') for the container to be placed in the driveway and off the street and public sidewalks. If the driveway is inaccessible, staff will not deliver the container, and you will lose your opportunity for the container at your residence.
What is permitted in the containers?
• Bulk household waste: furniture, mattresses, etc.
• Appliances: refrigerator and/or freezer must be tagged by a professional showing freon have been removed.
• Yard waste
What is NOT permitted in the containers?
• Paint, oil, batteries, propane tanks, 50-gallon drums, and other toxic or hazardous materials.
• Commercial, contractor, or industrial waste/disposal.
Other information and tips:
• Do not overload containers or put waste on the ground around the containers. Following the National Waste and Recycling Association's (NWRA) recommendations, WFWRD employees will not collect waste left on the ground or curb.
• The containers are for residents only. No commercial or construction dumping is allowed.
• If you have significant amounts of waste and cannot wait for the Seasonal Container Reservation Program, a bulk or green trailer can be rented instead – Trailer rental
• We also have landfill vouchers available.
Cancellation waiting list: 
Do not fill out the cancelation form if your city is not currently scheduled for service. This list is only for residents in the current area that is available to be reserved but is fully booked.
Cancelation waiting list for 2022 SCRP 
NOTE: You are not guaranteed a reservation; this cancellation form is available on a first-come, first served basis if a reservation happens to be available. We will contact you with the available reservation date if one becomes available.