Image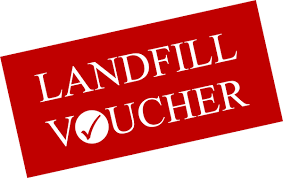 We are excited to inform you that you can now request a QR Landfill voucher for your convenience. This process is easy to use - fill out a form and receive a QR Landfill Voucher code on your mobile device to present at the landfill. (We will still honor any leftover paper vouchers). 
Request a QR Landfill voucher. 
Or
Request a Landfill voucher to be mailed to you.
Please see the locations listed below for your respective city or area where you can pick up a voucher.
Wasatch Front Waste & Recycling District provides landfill fee waiver vouchers for residents within our service area who can haul their own truck or trailer loads to the landfill.
* Voucher users must still follow all landfill regulations and are only suitable for loads 4 ft. x 8 ft. load (approximately the size of a pickup truck or pickup truck-sized trailer)
If you have any questions, please feel free to contact us for assistance via:
💬 Live Chat  Mon-Fri 8 to 4:45
 📧 Email: info@wasatchfrontwaste.org
📞 By phone: 385-468-6325 Mon-Fri 8 to 4:45
---
Where to pick up a fee waiver Landfill Voucher:
Cottonwood Heights: Cottonwood Heights City Hall (2277 Bengal Blvd.)
Emigration Canyon: Contact your Emigration Canyon Metro Township Representative
Granite: Contact your Community Council Representative
Herriman: Herriman City Hall (5355 W. Herriman Main St.)
Holladay: Holladay City Hall (4580 S. 2300 E.)
Kearns: Kearns Improvement District (5350 W. 5400 S.) Kearns Recreation Center (5670 Cougar Ln.) or Kearns Library (4275 West 5345 South)
Magna: Magna Library (2675 S. 8950 W.) or Webster Community Center (8952 W. Magna Main St.)
Millcreek: Millcreek City Offices (3330 S. 1300 E.)
Murray: WFWRD (604 W. 6960 S.) M-F 8:00 to 5:30
Sandy Hills: Contact your Community Council Representative
Taylorsville: Taylorsville City Hall (2600 Taylorsville Blvd.) or Taylorsville Library (4870 S. 2700 W.)
White City: White City Water District  999 E. Galena Drive (9830 S to 9820 S)
Willow Canyon: Contact your Community Council Representative
Willow Creek: Contact your Community Council Representative
WFWRD office 604 W 6960 S, Midvale, Utah 84047