Image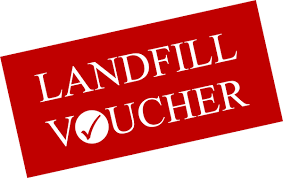 Request a voucher to be mailed to you.
Wasatch Front Waste & Recycling District provides landfill fee waiver vouchers for residents within our service area who can haul their own truck or trailer loads to the landfill.
Please see the locations listed below for your respective city or area where you can pick up a voucher.
* Voucher users must still follow all landfill regulations and are only suitable for loads 4 ft. x 8 ft. load (approximately the size of a pickup truck or pickup truck-sized trailer)
---
Where to pick up a fee waiver Landfill Voucher:
Cottonwood Heights: Cottonwood Heights City Hall (2277 Bengal Blvd.)
Emigration Canyon: Contact your Community Council Representative
Granite: Contact your Community Council Representative
Herriman: Herriman City Hall (5355 W. Herriman Main St.)
Holladay: Holladay City Hall (4580 S. 2300 E.)
Kearns: Kearns Improvement District (5350 W. 5400 S.) Kearns Recreation Center (5670 Cougar Ln.) or Kearns Library (4275 West 5345 South)
Magna: Magna Library (2675 S. 8950 W.) or Webster Community Center (8952 W. Magna Main St.)
Millcreek: Millcreek City Offices (3330 S. 1300 E.)
Murray: WFWRD (604 W. 6960 S.) M-F 8:00 to 5:30
Sandy Hills: Contact your Community Council Representative
Taylorsville: Taylorsville City Hall (2600 Taylorsville Blvd.) or Taylorsville Library (4870 S. 2700 W.)
White City: White City Water District  999 E. Galena Drive (9830 S to 9820 S)
Willow Canyon: Contact your Community Council Representative
Willow Creek: Contact your Community Council Representative