For all our Canyon residents, we will not be delivering trailers from October to April due to road conditions and weather
Image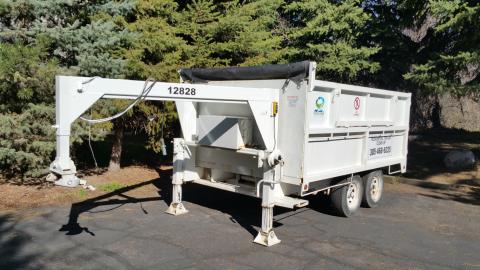 Drop off Pick up Schedule
Drop off Monday - Pick up Thursday
Drop off Tuesday - Pick up Friday
Drop off Thursday - Pick up Monday
Drop off Friday - Pick up Tuesday
Trailer rental fees
Bulk trailer rental is now $190
Green trailer rental is now $55
Fees for items found on Bulk trailers:
$3 per Tire/Rim $5
$12 per Refrigerator appliance 
$15 per Mattress/Boxsprings
---

There are three ways for a homeowner to reserve a trailer
Apply in person at 604 West 6960 South, Midvale, UT 84047

 Email or print, fill out, and fax the Green waste trailer rental form or the Bulk waste trailer rental form to (385) 468-6330. After receiving your form, we will call you within 24 hours with the available dates. We will confirm you are the property owner within the Service District and request a credit card number for payment. Remember, trailers are not scheduled until we have the form and payment. Please allow up to 24 hours for us to call you to reserve a date.
Customer Tips
Schedule early in the warmer months.

Do NOT mix Green with Bulk; additional fees will apply for putting bulk waste in a green waste trailer.

All Non-Tarped trailers will be assessed a $50 tarping fee

Share a trailer with your neighbors or use one for a neighborhood clean-up program

Additional fees will apply if green waste trailers are used for Bulk waste. Please read the complete agreement for more information and violation fees.

For instructions on how to open the trailer's back door, click HERE